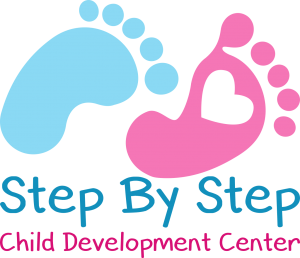 Step By Step Child Development Center
Providing exemplary Early Childhood Christian Education along with quality child care services to children  6 weeks of age through 3rd grade.
A Ministry of First United Methodist Church of Mount Vernon, Missouri
(417) 316-9142
stepbystepfumc@gmail.com
HOURS
Monday – Friday
6:30 a.m. – 5:30 p.m.
CHILD CARE RATES
Infants (6 weeks thru Walkers) – $196 Weekly or $39 Daily
Toddlers (Walkers thru Approx. 24 Months) – $179 Weekly or $36 Daily
2 Year Olds (24 Months thru 35 Months) – $162 Weekly or $32 Daily
3 Year Olds (3 years of age thru 4 years of age, potty trained) – $134 Weekly or $27 Daily
Pre-K (4 Years thru 6 Years, starting school the following fall) – $134 Weekly or $27 Daily
Before/After School Care (Kindergarten thru 3rd Grade) – $62 Weekly or $13 Daily when school is in session                                                                                                                                                                                                                                                                                          $134 Weekly or $27 Daily when school is out of session
Step By Step does not offer State pay as a form of payment
$2.00 (per child) late fee is charged for every minute after 5:30pm
Weekly payments are due each Monday unless other arrangements are made with the Director. If it would be helpful to schedule payment on a different day – or if monthly payments work best for you – please let us know and we will work with you to set up a convenient payment plan/schedule. However, those whose bills are overdue 2 weeks past the due date and have not made arrangements for payment your child will be suspended from care until payment is current.
Based upon our enrollment of young children beginning at six weeks of age whose health is jeopardized by such communicable diseases such as measles or whooping cough, the Child Care Board has made the decision to offer care ONLY to children who are immunized. We do not accept religious or medical exceptions.
WHAT TO BRING
Small Nap Blanket
Small Nap Cuddle Buddy
Change of Clothes
Our Younger Friends: Diapers, Formula, Bottles, Changes of Clothes
2022 Closing Dates
NEW YEARS – Monday, January 2, 2023.
GOOD FRIDAY – Friday, April 7th 2023.
MEMORIAL DAY – Monday, May 29th 2023.
INDEPENDENCE DAY BREAK –  Tuesday, July 4th 2023.
LABOR DAY – Monday, September 4th 2023.
THANKSGIVING BREAK – Thursday, November 23rd and Friday, November 24th 2023.
CHRISTMAS BREAK – Monday, December 25th  and Tuesday, December 26th 2023.
Emergency closings, or closings due to weather will be announced through a mass text system. It will also be announced on the radio and TV. If the Mount Vernon Schools are closed due to inclement weather, Step By Step will also be closed the first day. We have every intent to re-open the next day, providing the weather does not worsen and the streets are safe for all families and staff.
*Step By Step ONLY offers full time care. In order to have a school age child apart of our program (kindergarten thru 3rd grade) they must have a sibling enrolled in our daycare program. Step By Step does not offer just school age classes. For qualifying School Age Children we provide before and after school care, holiday care, inclement weather care, and summer care.
"With each of you, we were like a parent holding your hand, whispering encouragement, showing you step-by-step how to live well before God, who called us into his own kingdom, into this delightful life."
1 Thessalonians 2:10